At Concord Oval Recreation Centre we understand the challenges of maintaining a fitness routine while juggling the busy demands of caring for children. We also know that setting a good example for kids is really important. Our crèche facility provides a convenient solution. While you enjoy the centre's facilities, your children can be cared for by our friendly staff.
Our staff provide a safe, healthy and happy environment for children and are experts at caring for children from 6 weeks old to 5 years of age (not yet at school). Our space is equipped with games, toys, crafts, and more! Our expert childcare providers are completely dedicated to your little one's safety and security, and parents are free to check in on our little guests at any time.

To ensure a safe and quality visit, we have established the following guidelines:
Parents/guardians must NOT leave the premises while their child is in our centre.
Please do not bring your child to our facility if they are unwell.
Please supply suitable food and drinks for their stay. Please note we are a nut-free zone and all food items must be labelled.
Please 'sign in' your child upon arrival and 'sign out' on collection of your child.
You will be notified immediately if there is a problem with your child.
If a circumstance occurs when the staff need to evacuate the centre, your child will be evacuated by our staff. You will be reunited with them at the assembly point.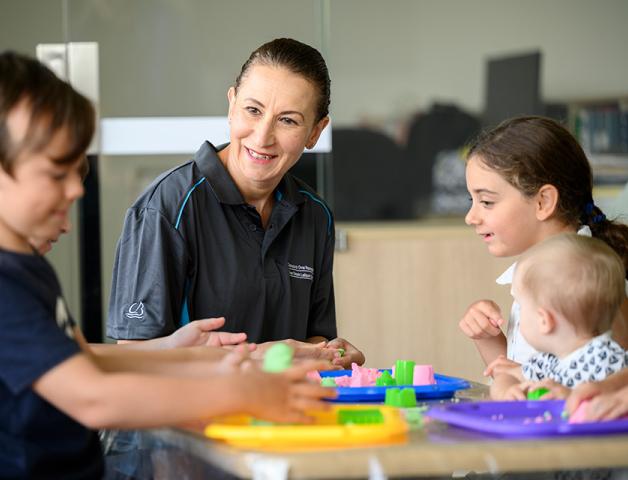 Our crèche now caters for children up to 8 years old during school holiday periods.
Our crèche is open Monday to Friday from 9am–12pm with two sessions: 9am–10:30am and 10:30am–12pm. One 90-minute session only per day can be booked.
We close on public holidays and weekends.
Crèche costs are as follows:
Free for Myzone subscription members (90 minutes only, one session per day only)
Gym members and stadium users: $6.60 per 90 minutes.
Member 10-visit pass (90 minutes per visit): $59.50 – expiry 6 months from purchase date (non-refundable).
Member 20-visit pass (90 minutes per visit): $119 – expiry 12 months from purchase date (non-refundable).
For first time bookings, you will be required to create a profile online for your child.
Bookings can be done ahead of time online, in person, over the phone on 9121 0244 or via email to info@concordrec.com.au.
Please ensure bookings are made ahead of time to avoid disappointment.
Payment is required upfront for any bookings.
To view the online booking procedure please click here.
We have a 24-hour cancellation policy to qualify for a refund or account credit. If cancellations are made within 24 hours of your booking time, no refund or credit will be issued. If you need to cancel you booking, please call reception on 9121 0244.
We will not be running Bayside Activities during the September School Holidays for 2023.
In order to maintain a high standard of care for your child whilst you enjoy the centre's facilities, we ask that users of the crèche agree and adhere to the our terms and conditions. Click here to read.
Sign up for our newsletter
Stay up to date with the latest news from the City of Canada Bay's recreation centres.